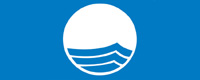 The clean sea and, BANDIERA BLU since 2011, has until the first dry, a low sandy bottom that allows water to comfortable hiking with recognized benefits for blood circulation in the legs or children to play safely.
Besides the first dry instead you can swim in water at will gradually deeper until, for the most highly swimmers, the submerged reef.
Water Activities that can be done safely under the watchful eye of experienced lifeguards well distributed both in the public beach and private.
Sea with clean water, low for a few meters, with sandy bottom, perfect for healthy walks, off slightly deeper, but protected by reefs, for wonderful swimming.